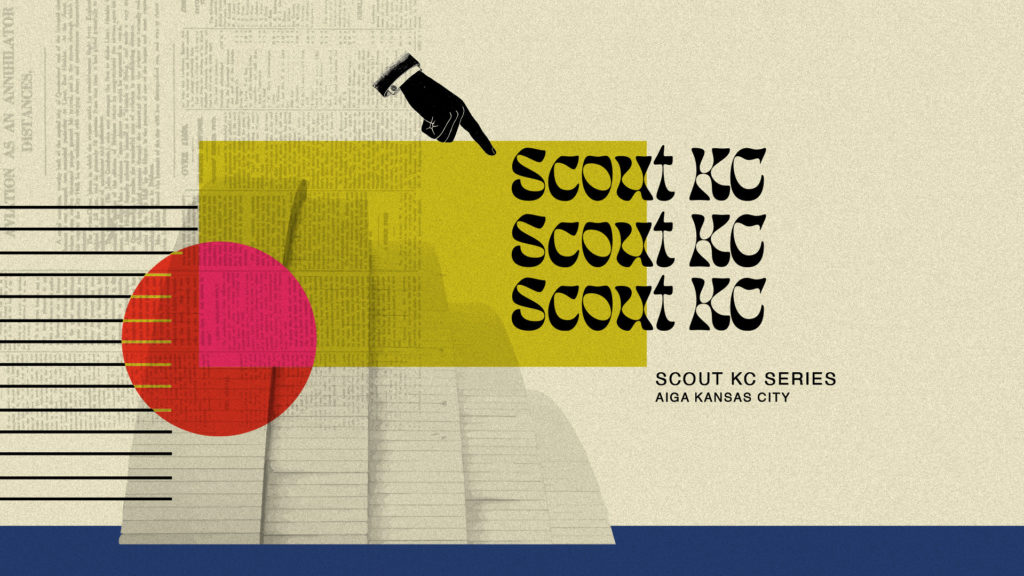 Are you a student or young professional thinking about applying to an internship or making a professional leap forward and want to get noticed? Join the Scout KC Series of virtual events to learn from the pros!
---
Series 1:
Scout Nights
Monday, March 14th and Monday, March 28th
Virtual
Attend a zoom session with an area recruiter and/or professional to prepare for your next big step. Discuss topics such as position titles and duties, deadlines, how to apply, the stages of the interview process, preparing for interviews, and the top 5 list of things to do and things not to do!
March 14 at 6:30pm – 7:30pm via Zoom
Erin Roebuck, Global Senior Talent Acquisition Leader, Hallmark Cards
March 28 at 6:30pm – 7:30pm via Zoom
Barkley: Travis Kramer, SVP, Managing Design Director, Natalie Sutton Recruiter
REGISTER HERE
---
Series 2
Portfolio Workshop
Friday, April 1: 9:30AM – 2:00PM
Saturday, April 2: 9:30AM – 1:00PM
Virtual event series
REGISTER HERE
After you've talked to the pros, join our Scout KC Portfolio Workshop. This 2-day virtual event supports students, recent graduates, emerging designers, and anyone looking to enter the Design Profession. Scout KC Portfolio Workshop offers a time to meet area designers, design leaders and recruiters through lectures, roundtables, breakout sessions to create an open dialogue about entering the design industry and reaching your highest potential. This event is great for creating connections in a laid-back atmosphere.
FRIDAY, APRIL 1st
9:40 Welcome

10:00 Studio Showcase | Tad and Jessica Carpenter | Carpenter Collective
Carpenter Collective is led by partners, Jessica and Tad Carpenter. The pair have been collaborating together since the day they met in design school over a dozen years ago. Since then, they've earned a national reputation for creating powerful brand experiences and unique visual storytelling with a whimsical wink. Carpenter Collective strives to create brand experiences that emotionally engage and connect with consumers. "The best brand strategy is developed as a partnership between the client and design team. This is a key component to establishing a road map that will guide us in expressing your brand attributes to your consumers through design. The best identities require courage and a strong vision." Join the studio showcase and come with questions for Tad and Jessica.

11:00 Think Big: Designing for Spaces | Jenny O'Grady | Populous
Join Jenny O'Grady to learn about translating graphic design skills to a three-dimensional space, and seeking experiential design as a career. If you like the idea of taking brands to the next level and creating experiences that bring your designs to life in the physical sense, this session is for you. Jenny O'Grady is an Experiential Graphic Designer at Populous, a world-class sports architecture firm out of Kansas City. There, she works to activate brands and create immersive environments for sports stadiums, training facilities, arenas, events, and other places people love to be together. Some of her most recent work includes designing the new locker room for the Kansas City Chiefs, activations throughout Climate Pledge Arena (the home of the new NHL franchise – Seattle Kraken), and creating unique environments for multiple power-five university's athletics training facilities and locker rooms.
12:00 Design Director Roundtable.
Join Garrett Street, Micah Barta and others for a roundtable discussion on how to tell your story, tailor your work and experience to connect and make a lasting impression. Come with your questions!
1:00 Studio Showcase | Design Ranch
Join the Design Ranch team to learn about how they go about creating a brand that works on every level, at every touchpoint, in every outlet. Design Ranch helps brands stand out in this complex, consumer-driven world. They will go through a couple of design case studies and talk about what a typical day at the Ranch looks like. Take notes and come with questions.
SATURDAY, APRIL 2nd
9:50 Welcome

10:00 Freelance Check
Thinking about taking on freelance? Join our panel of freelance designers and Babes Helpin' Babes diversity, equity, and inclusion educators, Edwing Mendez, Abby Kallenbach, Maddy Best, and Kathleen Murray, for a roundtable discussion on the freedom and pains of Freelance. They will discuss why they decided to go freelance, go through a checklist of things you need to consider before taking the jump yourself, and what to know before you bring in your first freelance pay check.

11:00 Be Bold. Be Brave.
Roundtable with Young Professionals. Join Jacob Gaunt of Whiskey Design, Lauren Murphy of Garmin, Molly Hanselman of Yoodle, Elia Hernandez of Signal Theory and others for a lively discussion on what they expected, what was expected of them and key things they learned their first years in the profession. What they wished they would have taken advantage of while they were in school and what they had to learn the hard way. Come with your questions and get some answers. Moderated by Rachel Yaros, HLK.
12:00 New Realities and the Future of Design | Mason Barry | Whiskey Design
Mason Barry is a Motion/Graphic Designer and 3D Design Specialist at Whiskey Design. At Whiskey, Mason works on a variety of projects that include work on branding, motion, AR, 3D, and more. Some of his most recent work has been for clients such as Boulevardia, Parade of Hearts, Restless Spirits, and Sporting KC. Mason also serves at the Associate for Mentorship for AIGA KC. He earned his BFA in Graphic Design and Illustration from the University of Central Missouri. Join Mason Barry as he shares his experience with incorporating 3D design with more traditional graphic design and illustration skills. As we know, this industry is continuously advancing and changing. With that, 3D tools are becoming more user friendly and easy to access. Learn more about how you can add this skill to your portfolio. Also, get a quick tutorial on how to make your very own Dancing Tom!
12:45 Wrap Up

---
Series 3:
Virtual Portfolio Reviews
Month of April
Current Students, Recent Graduates and Emerging Designers. This is the moment you've been waiting for. Prepare your portfolio and get Scouted! First you learned from the professionals, then you created meaningful connections, now it's up to you to get that job!
Sign up to meet one-on-one with the best and brightest professionals who will provide feedback on your in-progress design work and help you tune-up your presentation skills before you get in front of a creative director or a recruiter for your next interview.
Sign up to get your portfolio reviewed.
*Form closes on Friday, March 25th so don't wait. Sign up today!
Sign up to be Reviewed

Lend a Hand!
Sign up to be a Reviewer