Get a glimpse of emerging KC area talent
Want to know what our area's recent college grads have been up to? You're in luck. Senior shows from schools throughout the Kansas City area are moving online this year so that you can check them out from a safe distance. This is a great opportunity to get familiar with what's happening at the student level of our graphic design community. Be sure to check out the following virtual shows:
---
Welcome to Harmonia: JCCC Graphic Design Showcase 2020
This year's theme invites the community to come explore a world of creativity and collaboration. Welcome to the virtual land of Harmonia—where you can uncover fresh design inspiration, recruit up and coming talent for your creative team, and discover the stories of a new generation of designers who support each other in innovative ways, both online and in-person.
Start Packing. You've got something to look forward to. (Coming soon sign up for updates)
Visit us at: harmonia.jcccgraphicdesign.com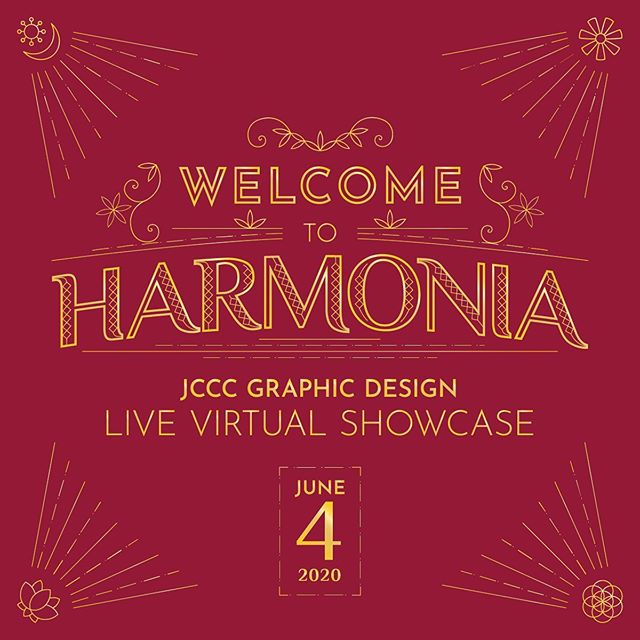 ---
Welcome to Spectra: the K-State Virtual Senior show.
Check out the seniors anytime. The site is live and they are ready to hear from you!
Visit us at ksuspectra.com/
Follow us at instagram.com/kstateaiga/
---

KCAI. Yes* Exhibition Launch and Reception Event
You are cordially invited to view an online exhibition, Yes*. We are graphic design students at the Kansas City Art Institute and a part of the graduating class of 2020. We would be honored to have you visit our virtual exhibition and view our work. Between the website, a 3D model of our studio-space-turned-gallery, and a print catalog (available on Lulu and as an interactive PDF), there are multiple ways to enter and experience the projects and ideas. All the designing, modeling, branding, social media, and web development has been executed by us — the students, as a team — from our individual home studio spaces.
The website features short bios about each senior along with a selection of projects from their time at KCAI.
Follow us on Instagram @kcaigraphicdesign to catch our daily updates. At noon every day from Saturday, May 9 to Friday, May 15th, two senior students will interview one another on Instagram Live. Join us for this series of conversations about our processes and motivations as designers.
If you and your studio would like to schedule a VIP tour of the virtual exhibition, let us know!
Save the dates below:
May 9–15th
12:00pm
GD Senior Interview Series
On Instagram Live: @kcaigraphicdesign
May 15
4:00pm–6:00pm
Yes* Exhibition Launch and Reception Event
RSVP with the Google Calendar invitation attached
Zoom call link provided to RSVP list at least 15 mins prior to the event.
We hope we get a chance to share our energy and enthusiasm with you! We hope this exhibition will encourage visitors during these unprecedented times and celebrate the unwavering spirit of this generation of emerging designers. Thank you for your support, and hope to see you there!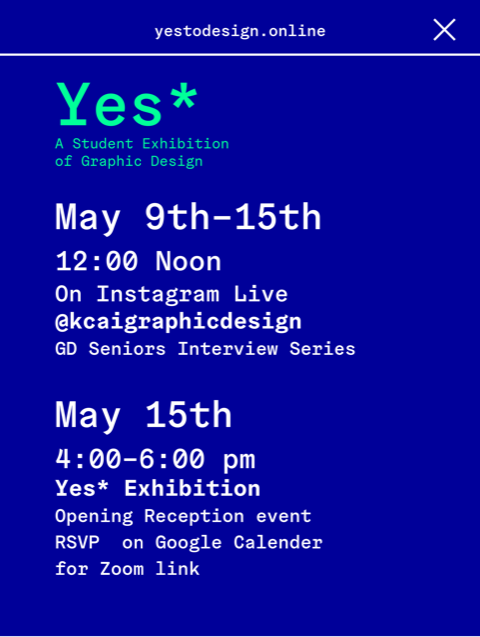 ---
The KU Department of Design and the Graduating Class of 2020 would like to invite you to our Virtual Senior Shows this Friday, May 15th at 6pm!
Students from all of our programs: Illustration, Industrial Design, Photography and Visual Communication will be showing work on Zoom and would be honored to have you join us to view our portfolios and provide feedback. We hope you are staying safe and healthy. Here are the details:
KU Design Senior Shows
May 15 | 6:00-8:00pm
Visit kudesignseniorshow.com which features (will soon feature) short bios about each senior along with a selection of projects from their time at KU.
Illustration – Please contact Barry Fitzgerald bfitz@ku.edu to RSVP and receive a Zoom Link
Industrial Design – Please contact Betsy Barnhart betsybarhart@ku.edu to RSVP and receive a Zoom Link
Photography – Please contact Elise Kirk elisekirk@ku.edu to RSVP and receive a Zoom Link
Visual Communication – Please contact Andrea Herstowski herstow@ku.edu to RSVP and receive a Zoom Link
Follow us on Instagram @kansas_design for any daily updates!
We thank you for your support during such unprecedented times, and we hope to see you on Friday as we commemorate these rising artists and designers. Let's celebrate their creativity and the spirit of perseverance that all us will need to have as we use the power of art and design to create a path forward!
KU Department of Design | @kansas_design | kudesignseniorshow.com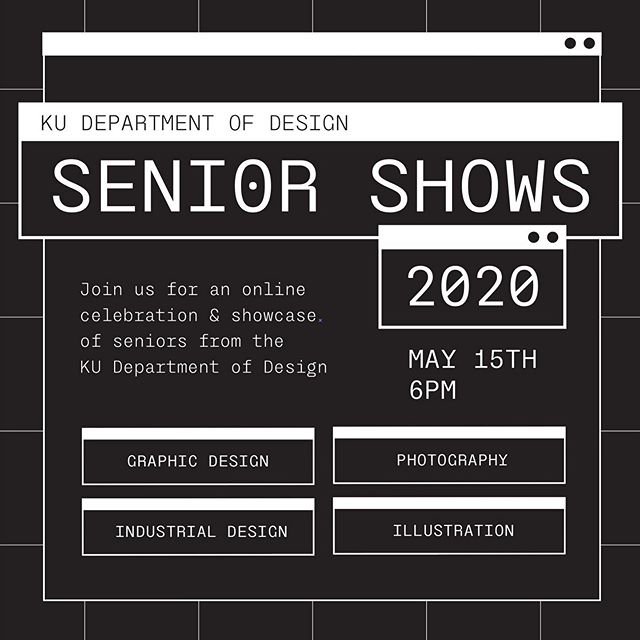 ---
2020 Truman State University Design Capstone Show
Welcome to the 2020 Truman State University Design Capstone Show! We may not be able to show you our work in person, but we can still connect with you by giving you a completely online show on Instagram! Let us introduce you to each of our designers, and then take a look at their stunning designs for businesses in the Kirksville area.
http://design.arttruman.com/capstone.cfm | https://www.instagram.com/tsudesigncapstone/