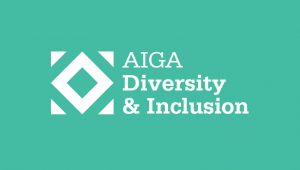 AIGA, the professional association for design, is committed to creating an inclusive environment where diverse voices are active in all aspects of our organization. This requires a culture of inclusion in which all individuals feel respected and are treated fairly, and different viewpoints, opinions, thoughts, and ideas are encouraged and embraced.
We are actively engaged in furthering Diversity & Inclusion within the design community, and we support organizations with missions and goals that value equity and inclusion for people of all backgrounds.
Our mission is to encourage diversity in design education, discourse, and practice to strengthen and expand the relevance of design in all areas of society. To augment ongoing AIGA KC programs with new ideas and resources that take a comprehensive approach, considering race, ethnicity, gender, sexual orientation, ability and disability, age, and other factors that shape creative perspective and professional experience.
Join us to:
● Celebrate a diverse array of influential designers, including historical figures and contemporary role models.
● Cultivate greater opportunity, awareness of diversity issues, and inclusive design cultures.
● Connect with students, emerging designers, and like-minded groups to support a broader range of future practitioners and leaders.
Luis Garcia, Director of Diversity and Inclusion
A new position to the Kansas City, Chapter of AIGA, the Director of Diversity and Inclusion is to oversee and guide the chapter's efforts to both reflect and encourage diversity within KC's design community. As the demographic makeup of Kansas City changes, the Director of Diversity and Inclusion works to raise awareness to known and unknown biases against underrepresented or overlooked groups as it relates to race, gender, location, age, socio-economic background, religion, ability, etc.
For more information about AIGA's Diversity & Inclusion Initiative, click here.